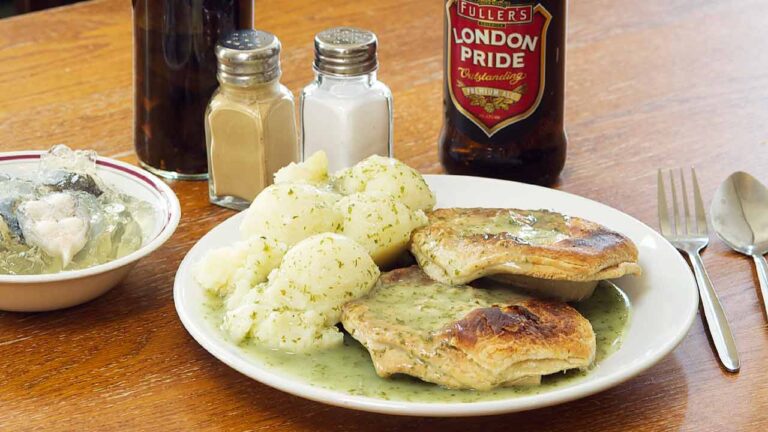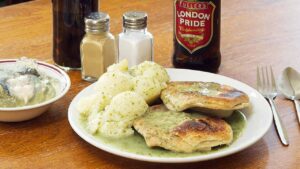 TRADITIONAL PIES
If you want traditional pie and mash then it can only be our handmade minced beef pie with mash and liquor. Made with 100% quality British minced beef.
Add some salt, pepper and chilli vinegar to finish!
ALTERNATIVE PIES
We have handmade 100% British steak pies, 100% British chicken breast pies, vegetarian & vegan pies to suit all tastes.
Add mashed potato and gravy for a tasty lunch.
Traditional Minced Beef

Pie & mash with peas or beans
Full Range

Chicken & mushroom pie & mash

Steak & kidney pie & mash

Lamb & rosemary pie & mash

Chilli minced beef pie & mash

'The Banks' Veggie soya pie & mash

Cheese & onion pie & mash
Served with mash and your choice of liquor or gravy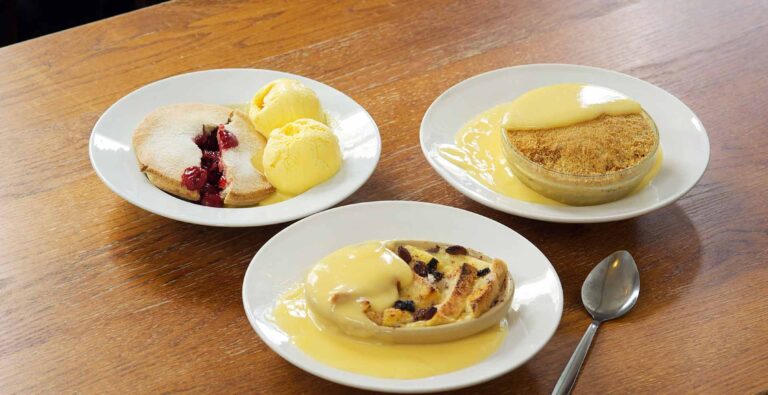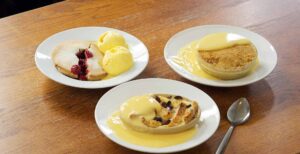 GLUTEN FREE PIE & MASH
We can now offer gluten free pie mash and liquor. A handmade 100% minced beef pie with mash and gluten free liquor. Please ask our staff for details.
DESSERTS
If there's any room left after your pie and mash then treat yourself to a Goddard's handmade dessert. Sweet, filling and satisfying.
Desserts

Handmade bread & butter pudding

Portion of ice cream or custard
Fruit pie flavours – apple or cherry
Crumble flavours – apple, rhubarb or apple and blackcurrant
Available with custard or ice cream (or maybe both!).
Drinks

Bottled beer, lager, cider
All prices are correct at time of publication but can change without notice.
ALLERGY INFORMATION
Please ask our staff if you have a question about our food or the ingredients used.