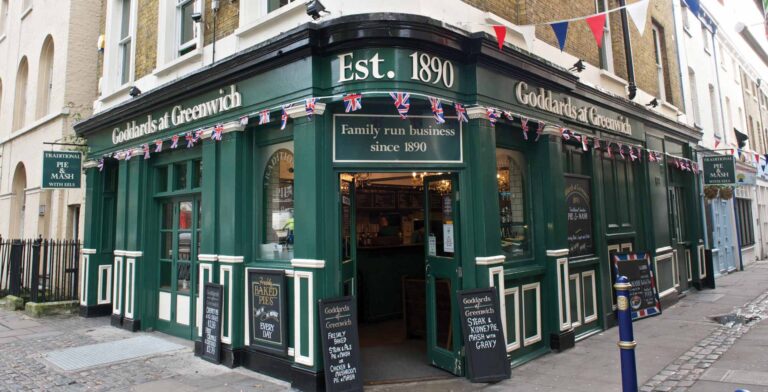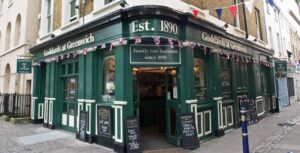 Traditional pie and mash in Greenwich
Established 1890
We are open every day!
EAT IN ~ TAKEAWAY ~ JUST EAT ~ UBER EATS
Our mail order service is still running with deliveries across the UK.
To order please go to www.pieshop.co.uk
Goddards at Greenwich serves London's most traditional meal of pie, mash and liquor.
This meal can be traced back through the 1800's and is an important part of London's food history.
Our recipes have not changed from the day we started back in 1890.
We pride ourselves on baking the pies fresh daily using locally sourced ingredients and British meat, helping to support our local community.
We are a family run business and hope that not only you receive good quality fresh food at an affordable price but you will also be welcomed by a warm smile, making your whole dining experience an enjoyable one.
We hope to see you soon!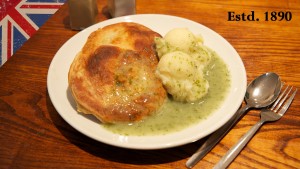 IT'S NOT ALL ABOUT THE EELS AND LIQUOR!
Goddard's have been serving pie and mash in London for over 130 years. Whilst we stay true to the origins of London pie mash and liquor we also know that it is not to everyone's taste.
So, we offer a range of pies including steak, chicken, vegetarian and vegan. We also have liquor and gravy. And there's eels if you want them! Please ask if you have any questions about our food.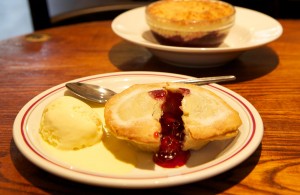 TRADITIONAL PIES
The most traditional London meal of them all. 100% minced beef pie with mash and liquor. Splash on some chilli vinegar and season for taste.
Simply the best!
OTHER PIE FLAVOURS
We can offer steak, chicken, lamb and vegetarian pies as an alternative to the traditional pie.
Enjoy with mash and liquor or gravy. Peas and baked beans are also available.
DESSERTS
If you still have room; enjoy a handmade fruit crumble or fruit pie with ice cream or custard.
Occasionally we have bread & butter puddings or sponge puddings available.
EAT IN
Our air conditioned licensed restaurant can seat 125 people so we have plenty of space for you to enjoy your pie and mash. Sit on the first floor and take in the views of Greenwich, or sit near the counter and enjoy the London banter!
We have traditional wooden benches along with tables and chairs. We also have highchairs for our younger customers.
TAKEAWAY
Whether it's for a lazy lunch in Greenwich Park or an eat and work office lunch we are happy to offer takeaway containers to safely transport your pie and mash.
Large takeaway orders are welcome for parties and functions. Or why not grab some pie n mash on your way home from work for a perfect 'no cooking' evening meal.
Had the beef pie and mash. Quintessential English food. It was tasty. We got it with the parsley sauce. Quick and pleasant service. If you're in need of a quick bite, this is the place. The atmosphere was charming and quaint.

Kevin Chan


This shop was amazing, me and my husband had our crying baby who was distressed and hungry, we just wanted some mash and the staff was absolutely lovely. The food tasted good and they even bought us over some water for baby to drink. Their customer service deserves 10 star and just such a welcoming atmosphere. If you're in Greenwich definitely give them a try ❤️

Tomica Dowden


One of the best Pie & Mash restaurants around by far. Cheaper than other rivals I have been to and miles apart in quality as for taste and how it is presented. The premises are very clean and the customer toilets reflect that. The staff are very warm and friendly. Totally recommend this place you won't regret it.

Michael Garfield


x x (panda)


These are the best pies I've haver tasted. I tasted beef, onion and cheese, lamb and rosemary and chicken and mushroom. My favourite one was the chicken and mushroom. But the truth is, all of them are perfectly filled inside a perfect texture pastry and the flavours can really give you the sensation of home food.

Tânia Costa


We had two pies with mash and gravy along with two beer. All for less than £20 in the heart of a very busy Greenwich Market. Excellent pie and mash, quick service and their desserts are huge! We tried a chicken and ham pie, steak and kidney pie and shared a blackberry crumble! All were top quality and very filling. The pies had excellent filling with plenty of meat and tasty gravy! We will be back and will happily bring visitors with us.

donal garvey


Lovely well portinaly sized pies.

Andrew Levy


So glad we stopped here for dinner, rather than braving one of the uninspiring chain restaurants on the high street. The staff were genuine, friendly, efficient, and kind to everyone who came in. Even the lady asking for chips ("just pie and mash, love!") was directed enthusiastically to the nearest chippy. Top mash, great liquor... but I didn't really enjoy my pie all that much. It had a slightly strange flavour. At £9 for a beer, veggie soya pie, mash, peas and liquor you can't really go wrong, but the vegan pie at G Kelly on Roman Road is still a cut above. I would highly recommend Goddard's over anything else nearby, though! Especially if you're looking for some fast, hot, tasty food and an authentic experience. I think the traditional meat pies may be more reliable than the veggie option - my partner enjoyed his classic beef mince version. It is also super clean in here, and the puddings look great - shame we were too full to try one.

Laura Wyglendacz


Wow! Proper pie n mash!! I had the steak & chorizo pie with mash n pie with jellied eels on the side. £10 with a 7up! Can't knock that! Amazing pie. Can see why people are always walking through the door. Tell them what you want and it's dished up in front of you ready for you to take to your table. Really friendly guys and quite clearly see he's proud of his family run restaurant. A must for any pie lover. Can you open a branch in Southampton?? 😉

Matt- Fuller-Gmail


Visited to try the traditional London pie, mash & liquor and loved it! Great canteen style place with a huge queue out the door. I love that even these old fashioned institutions are catering to vegans now!

Ella Street


Yen Sheng Huang


I love Goddard's Pie and Mash - Delicious Food, nice atmosphere and friendly staff. I also appreciate the choice of gravy or liquor as many shops don't offer that. Crumble was lovely too! Whenever I'm in Greenwich/Canary Wharf area around lunch I always Pop in. Excellent - 5 Stars!

Tayla