Traditional pie and mash in Greenwich
Goddards at Greenwich serves London's most traditional meal of pie mash and liquor. This meal can be traced back through the 1800's and is an important part of London's food history. We are open everyday serving handmade pies which are baked throughout the day. Please view our menu to see what we offer.


We are a family run business that has been serving pie and mash since 1890. Our air conditioned licensed restaurant can seat 100 people and we also offer desserts and cold drinks. We look forward to serving you London's most famous dish!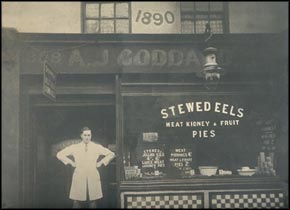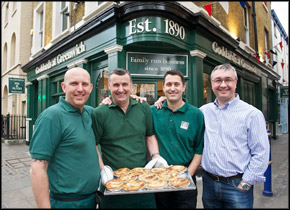 It's not all about the eels and liquor!
Goddard's have been serving pie and mash in Greenwich for over 60 years. Whilst we stay true to the origins of London pie mash and liquor we also know that it is not to everyone's taste.


So, we offer a range of pies including steak, chicken and vegetarian. We also have liquor and gravy. And there's eels if you want them! Please ask if you have any questions about our food.
Eat in or takeaway
Our food is ready to eat in or takeaway. Please call us for large orders.