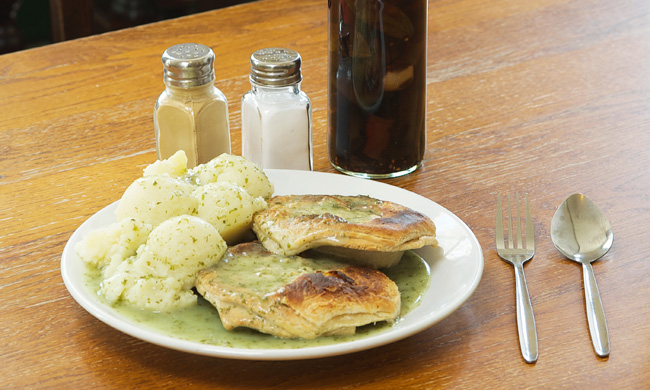 Our pies mash and liquor are all hand made to the Goddard's family recipes.  Our Greenwich pieshop offers:
SAVOURY
A range of hot, handmade pies:

Traditional minced beef pie (the pie & mash pie)
Steak & kidney pie
Steak & ale pie
Chicken & mushroom pie
Chicken & ham pie
Chilli minced beef pie
Junior minced beef pie
Cheese & onion pie
Veggie soya pie (the 'Banks' pie)

Beef & vegetable pasty
Sausage roll
All served with your choice of liquor, gravy, mashed potato, baked beans or peas.
Jellied eels and stewed eels are also available.
SWEET
Handmade fruit pies; cherry pie, apple pie
Handmade fruit crumbles; apple crumble, rhubarb crumble, blackcurrant & apple crumble
Handmade bread and butter pudding
Chocolate sponge pudding with a rich chocolate sauce
Available with custard or ice cream (or maybe both!).
DRINKS
PG Tips tea
Coffee
Hot chocolate
Coke
Diet Coke
Sprite lemonade
Fanta orange
Kids fruit squash
Bottled water
Bottled lager, beer and cider
 ALLERGY INFORMATION
Please ask our staff if you have a question about our food or the ingredients used.